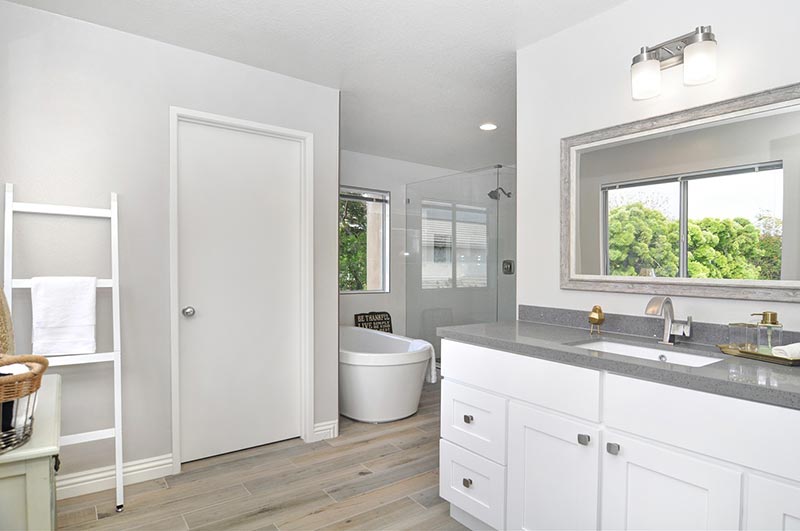 Certain home remodeling projects are making homeowners happier and proving to be well worth the cost and time when they sell their properties, according to a new survey from the National Association of REALTORS®, which includes insights from the National Association of the Remodeling Industry.
After completing a home remodeling project, 74% of more than 2,100 consumers surveyed reported having a greater desire to be in their home, 65% say they experienced increased enjoyment, and 77% felt a major source of accomplishment, the 2019 Remodeling Impact Report shows. Researchers examined 20 projects and surveyed REALTORS® and consumers on home renovation projects.
"REALTORS® and homeowners alike recognize the value of taking on a major home remodeling project," says NAR President John Smaby. "While these tasks can be time-consuming and costly, the projects are well worth the temporary inconveniences, as this report shows, and the final products ultimately reward us with feelings of accomplishment, satisfaction, and higher home values."
NAR calculated a "joy score" for each home remodeling project studied. The score, a scale from one to 10, is based on homeowners' overall perceived happiness with their renovations. The higher the joy score for the project, the more homeowners felt satisfaction from it.
Some of the highest joy scores for interior projects centered on complete kitchen renovations, closet renovations, full interior and interior room paint jobs, kitchen upgrades, and basement conversions to living areas.
The exterior jobs with the highest joy scores were new fiberglass or steel front doors, new vinyl and wood windows, and new roofing.
The Resale Benefit
Remodeling can be money well spent at times of resale. Overall, the top remodeling projects for recovering costs at resale were from new roofing, hardwood floor refinishing, and new hardwood floor installation.
NARI remodelers say that homeowners spend on average about $7,500 for new roofing, but real estate pros estimate that sellers will recover $8,000 at resale—an estimated 107% of the value recovered.
On new wood flooring, the average cost homeowners spend on an update is $4,700, but a 106% potential return is possible at resale (real estate pros estimate $5,000).
The Happiest Home Projects
But remodels aren't just for the potential payback at resale. "The NAR report shows us that people often remodel for resale purposes, but it also reminds us that homeowners remodel too, with the desire to make a home their own," notes Lawrence Yun, NAR's chief economist.
Here's a closer look at the study results on the home improvement projects that made homeowners the happiest:
Kitchen renovation
Joy score: 10
Ninety-three percent of consumers said they had a greater desire to be at home since the completion of their kitchen remodel; 95% said it's increased their sense of enjoyment when at home. "The kitchen is a space homeowners frequent regularly throughout the course of the day," Yun says. "So when that area is remodeled to owners' exact preferences—as they enter and exit the room—they continually experience the satisfaction of a job well done."
The biggest reason behind a kitchen renovation was to improve functionality and livability, according to 46% of respondents. Also, 24% said they wanted to upgrade worn-out surfaces and materials, while another 20% said they had recently moved into their home and wanted to customize the kitchen to fit their particular tastes. "Kitchens serve as the 'heart of the home' for many, and whether you like to entertain or cook, updating a kitchen ensures greater access and use as homeowners age, especially when the upgrades take accessibility into account," says Robert Kirsic, a certified kitchen and bath remodeler and also NARI's 2019–2020 president.
Closet renovation
Joy score: 10
Upgrading home closets also made for instantly happier homeowners. Sixty-eight percent of consumers surveyed say they feel a major sense of accomplishment when they think about a completed closet renovation project. More than half say the most important result is improved functionality and livability.
Full interior paint job
Joy score: 9.8
A fresh coat of paint can do wonders for improving the look of a house—but it also improves the mood of those living there. Eighty-eight percent of respondents reported a greater desire to be home since having their home freshly painted.
New fiberglass front door
Joy score: 9.7
The installation of fiberglass front doors can also help for resale and happiness, the survey found. Seventy-nine percent of respondents said that they've had a greater desire to be home, thanks to their new front door. Sixty-seven percent say they have an increased sense of enjoyment when they're home.
New vinyl windows
Joy score: 9.6
The happiness around new windows mostly comes from the result of improved functionality and livability. Forty-seven percent of respondents said they were motivated to update their windows to improve their home's energy efficiency, and 23% want to upgrade worn-out surfaces, finishes, and materials.
Source: "2019 Remodeling Impact Report," National Association of REALTORS® (October 2019)
Get a Quick Quote